jookitcz
I just discovered Redactions.com. It's wonderful. Among their suggested exercises for poetry writing:
#80: GemALEgedicht — The Pintist School of Poetry
Let me tell you a story of the forgotten school of poetry that Ralph Black and I (Tom Holmes) have recently discovered. This school arrived in the late 19th century and early 20th century in a few dank town pubs in Northern England, Scotland, and on the outskirts of Dublin, Ireland. This poetic movement wasn't a response to anything, it grew organically from the hops and yeast in Pints of Ale.
The Pintists, as they were called, believed in writing poetry whilst drinking pints of ale. Though they preferred to call their composing of poetry in this manner as Pinting. This school of poetry held firm in their beliefs of Pinting: everything could be explained by using only objects in the bar as a metaphor for the human condition; they believed the bartender was a high priest, or priestess; and their muse, their god, was represented in the below picture painted by Brian Warner.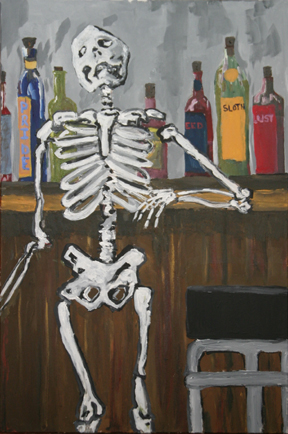 Yes, the Pintists held strong til they read these lines from The Waste Land:
HURRY UP PLEASE IT'S TIME
HURRY UP PLEASE IT'S TIME
These lines shook many Pintists to the core. They believed they had been stagnating by drinking only one ale. The Pintists slowly fractured. First came the experimentalist who started binging on the German Ales. Then some of them even split into a smaller group of fringe avant gardists who downed Indian Pale Ales whilst writing their poems (and they were sure to use "whilst" as often as possible in their poems, because they believed "whilst" had etymological connections to "whistle", which they thought keen because they were always wetting their whistle, which later became their underground, hip word for pencil, because the pencil, they believed, couldn't create unless it was wet with ale. (Some deep-hearted, avant garde, IPA Pintists actually took this literally, and dipped their pencils into their pints of IPA, like a fountain pen into an inkwell, as a ritual before they wrote. A few years later, these poor soles, these writers in the primes of their youth and artistic expressions, died from lead poisoning. This sorrowed all Pintists, and they slowly vanished like the sputtering of an empty keg.))
At the same time everyone was reading the lines "HURRY UP PLEASE IT'S TIME", and whilst the avant garde IPA Pintists we're slowly killing themselves, feminists got involved in the movement. The believed, and rightly so, that they too could drink as much and write as well as any of the male Pintists. This group of women would become known as the Ale-Wives. And whilst they believed in the Pintist school of poetry, they also believed the words HURRY UP PLEASE IT'S TIME was a good suggestion to all that it is time to go home. The Ale-Wives stressed the importance that there are a few things outside of the pub that are important to consider. They also stressed the cyclic nature of life – all good things must come to an end, but tomorrow is just the beginning of more good things.
Around the time of the rise of the Ale-Wives, Ezra Pound, T. S. Eliot, and Gertrude Stein were in Dublin, Ireland, trying to raise rent money for James Joyce. They met Joyce in a bar in Dublin to give him rent money, so he wouldn't have to move, and so he could concentrate on his writing. Joyce was so touched by the love and concern that he started buying drinks to celebrate this act of love. Eventually, when the rent money was almost all gone, Joyce started buying drams of ale instead of pints. He was trying to conserve what little money he had left. At which point, Ezra asked Joyce if he had heard or read anything of the Pintists. Joyce responded, "Yes, they are so dramatic and grandiose in their expositions. What they need to do is start drinking these drams, like us!" Soon the minimalist school of Pintists was born, and they called themselves the Pintalists. The Pintalists lasted the night, and the school was never heard from again. Though one poem was recently discovered by a Pintologist from Brockport, NY. This Pintologist was in SUNY Buffalo's library of archives doing research on Ezra Pound. Whilst going through Pound's journals, he found a cocktail napkin with a poem on it. He believes the poem was written during the night of the Pintalists. The poem reads:
In a Tavern in Dublin, Ireland
The apparition of these faces —
bubbles on a dram of ale.
Ok. Your assignment is to revive the school of Pintists. You will find a bar and compose poems whilst drinking pints of ale, um, I mean, you will involve yourself in Pinting.
Go forth.
Oh, one last thing, all Pintists believed in good tipping practices. They believed it healed the soul. They believed the better they tipped their high priests and priestesses, the less hungover they would be in the morning.
Ok. Now, go forth.
http://www.redactions.com/poetry-assignment.asp